Compare The Best Travel Strollers: Price, Weight, Etc.
Welcome to your all-in-one guide for comparing the best travel strollers! Having a lightweight, travel-friendly stroller is crucial for making travel days less stressful, outings easier & trips more enjoyable - your little one will be comfy (nothing worse than a case of numb bum for your babe) & you won't break a sweat trying to get the dang thing in/out of the car/plane/train/etc. We know that choosing the right stroller can be overwhelming, but don't worry we've got you covered.
Note: While yes we make strollers, this blog is intended to provide unbiased information and be a helpful guide to choosing the best stroller for your unique needs. What works for one parent, may not work for another and we completely understand that. Do what's best for you!
Let's dive in!
What to Look For in a Travel Stroller 
When you're traveling space is limited - whether that's in your trunk, on a plane or in your hotel. Having a stroller that folds compactly will save you from having to tetris fit everything in your trunk if you're driving and in some cases allow you to stow your stroller in the overhead bin if you're flying (more on that in a minute). 
Right on the heels of a compact fold is making sure you can EASILY fold your stroller! If you thought waiting for your change at the grocery store is anxiety inducing, wait until you can't fold your stroller at the airplane gate/parking lot/hotel. While your full size stroller may boast all the features you love for daily use, they aren't always the easiest (or most compact) to fold. Having a stroller that is easy to fold AND compact is a game changer for travel.
Weight is the name of the game when traveling – between your luggage, diaper bag, backpacks, purses, etc. it can get a bit heavy. You will want your stroller to be light enough so should you have to lift or carry it, you won't throw your back out. We suggest selecting one that is under 20lbs.
If you have long days planned, you will want a stroller that can hold a lot of "stuff" (especially if you're on vacation or taking on a place like Disney). Does your diaper bag have a place to go? What about your water or coffee? Is there a spot for your baby's bev? What about a pocket for keeping essentials close by? Having a place for all your things will help you stay organized while allowing you to bring everything you need for a day out
What are the features that matter to YOU when out and about with your baby? (Hint: these are different for everyone!) Do you want a big canopy? Wheels that can handle any terrain? Tall handlebar? We suggest picking 1 or 2 features you love about your full size stroller and making sure your travel stroller also has them. Here are 3 features parents find most useful when traveling:
Large canopy so your baby has a shady spot to rest

Adjustable calf rest for napping on-the-go

Comfy seat for those long days

out and about
---
Best Travel Strollers for Flying
Now that you know what features to look for in your travel stroller, let's break down the best travel strollers for flying. It's important to note that any stroller can be checked at the gate, but not every stroller can be brought onboard. If being able to bring your stroller with you onto the plane is a must, you may (unfortunately) need to compromise on a few features and spend a bit more $$$. Let's see what airplane stroller may be best for you!
1. Bombi Bēbee Lightweight Stroller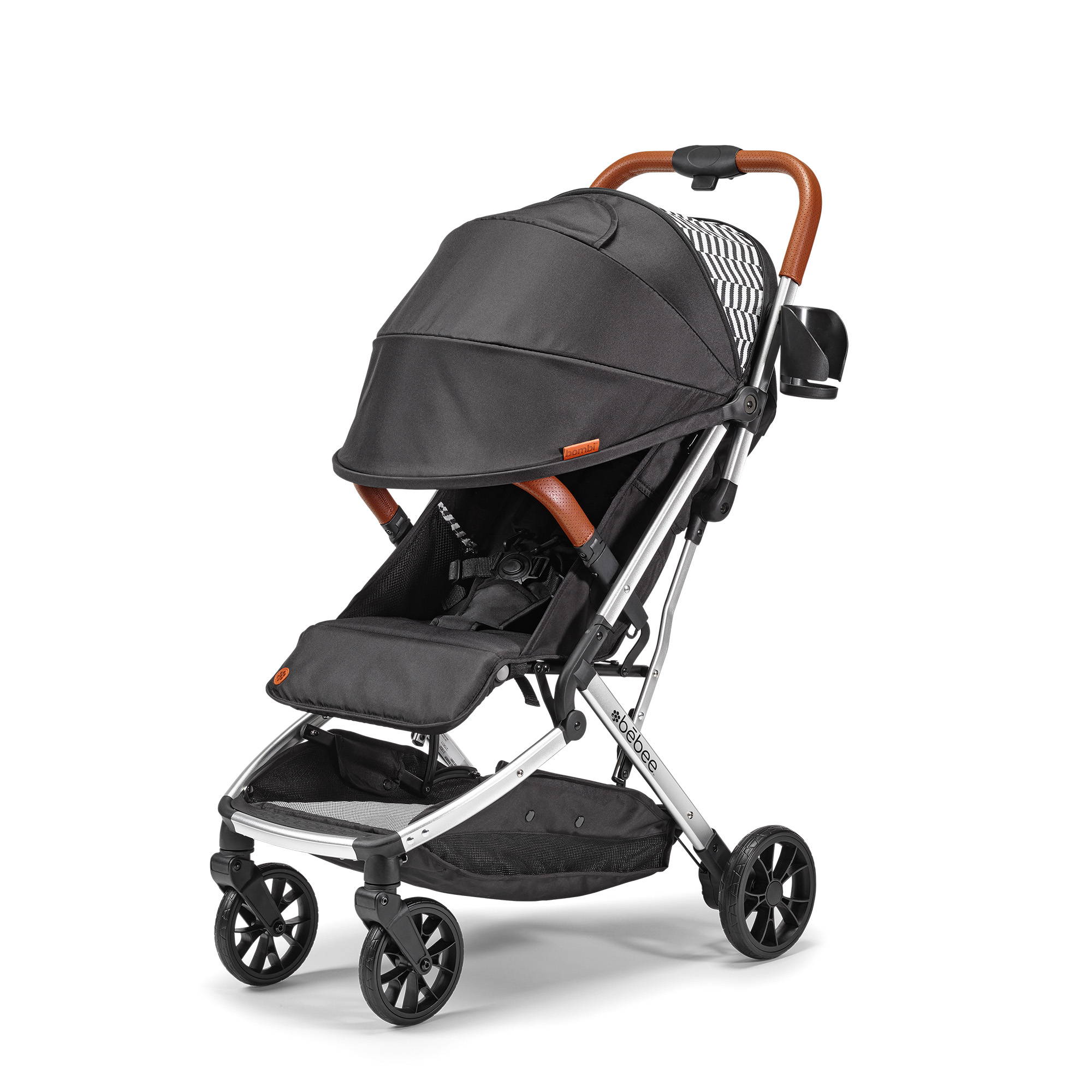 Our best-selling Bēbee Lightweight Stroller has been a fan favorite for all types of travel – including road trips, Disney vacas and plane rides. We designed this stroller with parents in mind and set out to create a lightweight travel stroller that had all the bells and whistles of a full-size stroller, but in a much more compact, lightweight frame making it one of the best travel strollers overall for any type of travel!
What makes this great for flying:
1 hand fold & unfold

Self-standing fold (keeps fabric off dirty airport floors)

Includes tote bag

Can be carried on (some airlines) & easily checked at the gate

Lightweight (easy to lift)

1 hand push for steering through busy airports while pulling luggage
Weight: 16lbs
Price: $199
Suitable for ages: 0-50lbs (with the Car Seat Adapter accessory) or 6 month – 50lbs without adapter!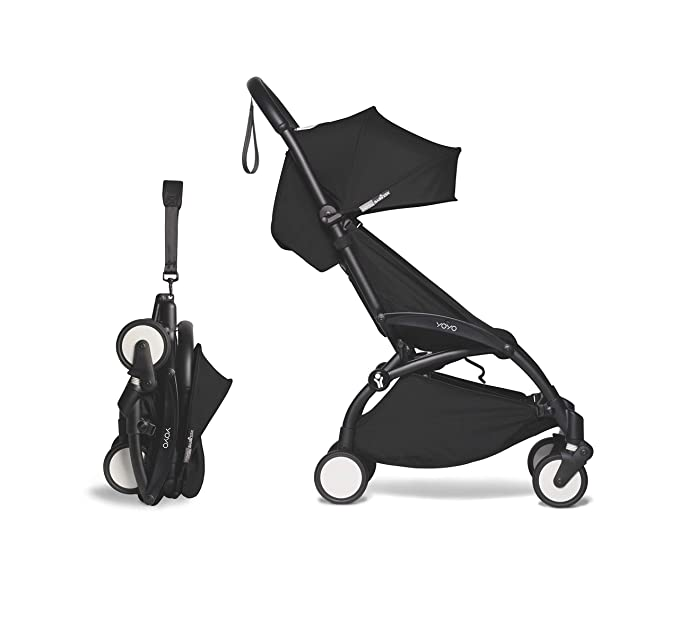 The Yoyo2 is an ultra compact option making it one of the best travel strollers for flying. Unlike other travel strollers *cough*pokit*cough* It incorporates some must-have features like a larger canopy, decent storage basket and 1 hand steering. We also love the options for newborns like a car seat adapter & bassinet add on for those first few months with your baby. That being said, it's not the most affordable option out there and will cost you over $500
Weight: 13.6lbs
Price: $529
Suitable for ages: 6m - 45lbs (bassinet & newborn options available)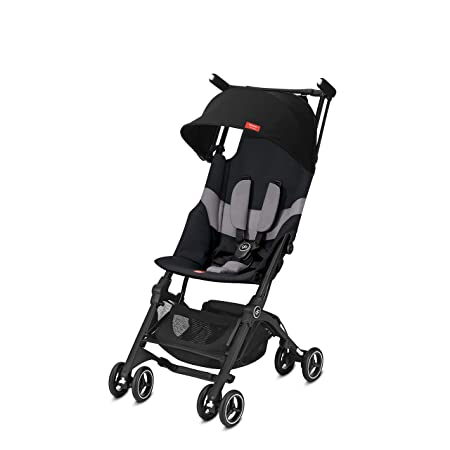 If having the smallest fold possible is a must for you – you'll want to check out the GBpockit. Folding down to be just larger than a standard backpack, this stroller fits easily into any overhead compartment, is ultra-lightweight (aka easy to lift overhead and place in said compartment) and a favorite among jet-setting families. While it may be one of the best strollers for airplane travel, unfortunately it falls short with a few key features:
-    Small canopy with minimal sun coverage
-    XXS wheels
-    Small basket
-    No 1-hand steering
-    Small seat
Weight: 10.5lbs
Price: $199.99 - $279.99
Suitable for ages: 6M – 55lbs
---
Best Travel Strollers for Newborns 
Traveling with a newborn can feel overwhelming - make sure you have a comfy cozy place for them to be when out and about! Here are the best travel strollers for newborns.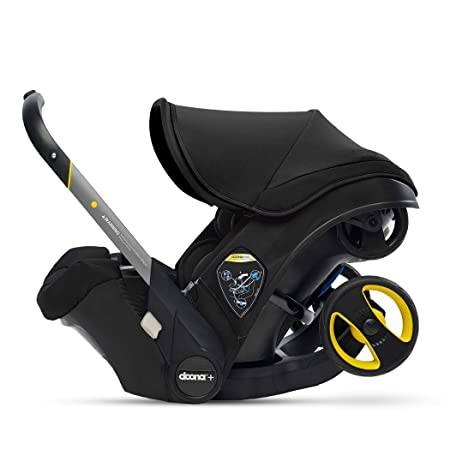 The Doona is a cult favorite and for good reason! Essentially it's a car seat with extendable wheels making it a really simple stroller for traveling with newborns (who doesn't love one less thing to carry amiright?!) The wheels easily fold in for use in carseat mode & when you're ready to roll, just flip down the wheels and transform your car seat into a very convenient stroller! However, it does have 2 major downfalls:
Severely lacking in the storage department. You will definitely miss having a place to put your diaper bag, purse and other must-have travel items.

Pricey with a short life (you will most likely only use this for 6 months)
Weight: 16.5 lbs
Price: $550+
Suitable for ages: 4lbs – 35lbs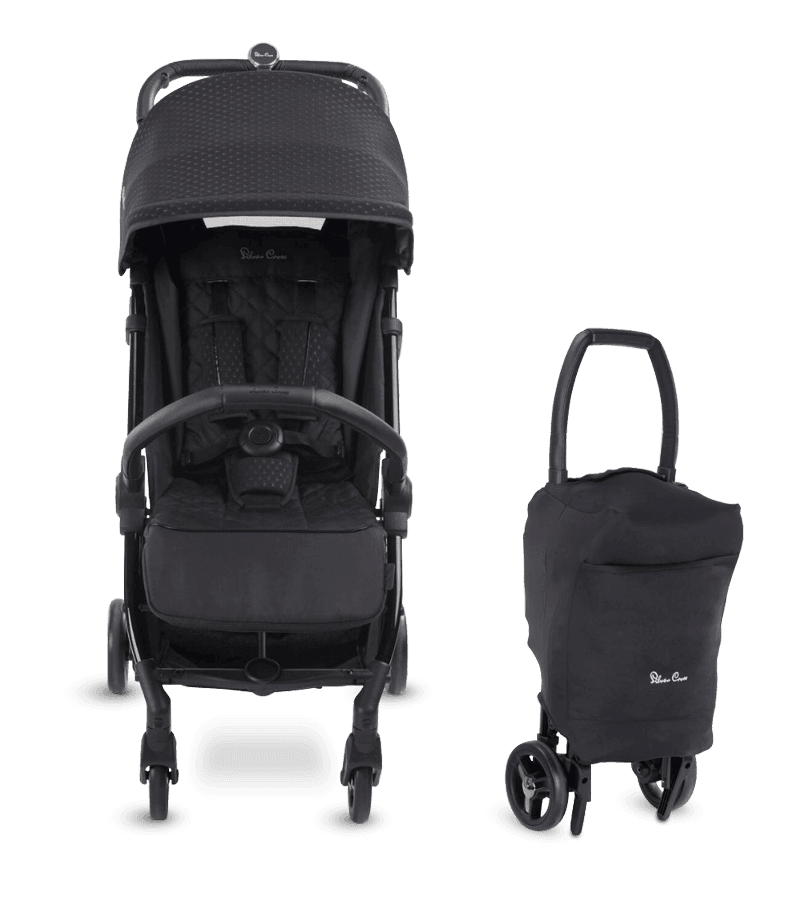 Silver Cross is known for creating high quality baby gear and this is their take on a compact, overhead-bin-friendly stroller. It offers some must-have conveniences (use from birth, UPF rated canopy, decent recline & a compact fold), but could be improved on in some key areas – users find the fold to be a bit clunky and not as easy as some of the 1 hand fold/unfold strollers on the market.
Weight: 13.6 lbs
Price: $399
Suitable for ages: birth – 55lbs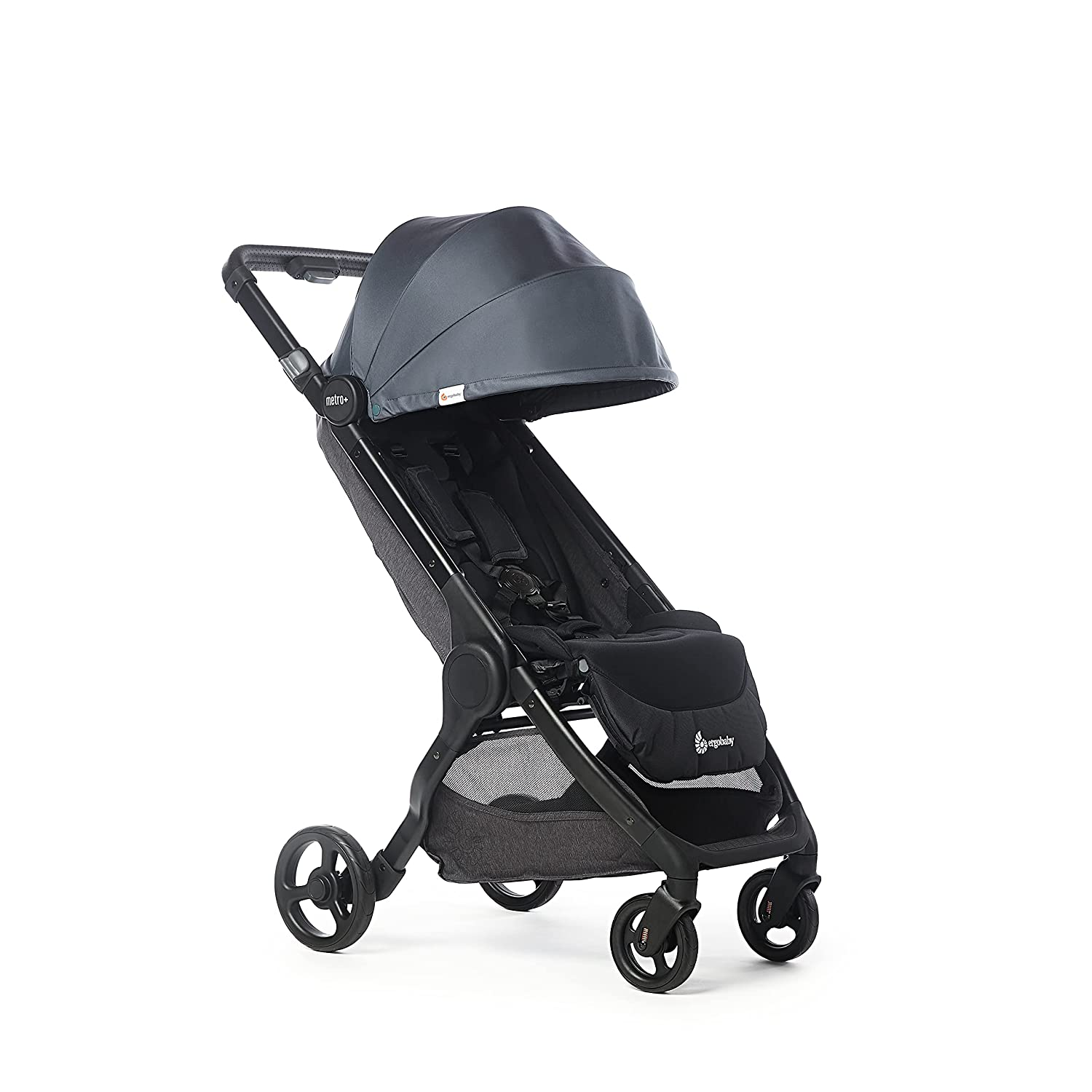 This is a great travel option, especially if you're traveling with a newborn. It earns extra points for longevity (birth to 50lbs), adequate storage for a compact stroller, ability to fit in the overhead bin when flying & the super padded which your baby will love on those long travel days! That being said, the fold takes 2 hands (and sometimes a leg for support) making it not entirely convenient when you have a baby on your hip or your hands full.
Weight: 17.5 lbs
Price: $299
Suitable for ages: birth – 50lbs
---
Best Eco-Friendly Travel Strollers 
If having something that's not only good for your baby, but good for our planet is important to you, check out these 3 eco-friendly strollers!
1. Bombi Bēbee Lightweight Stroller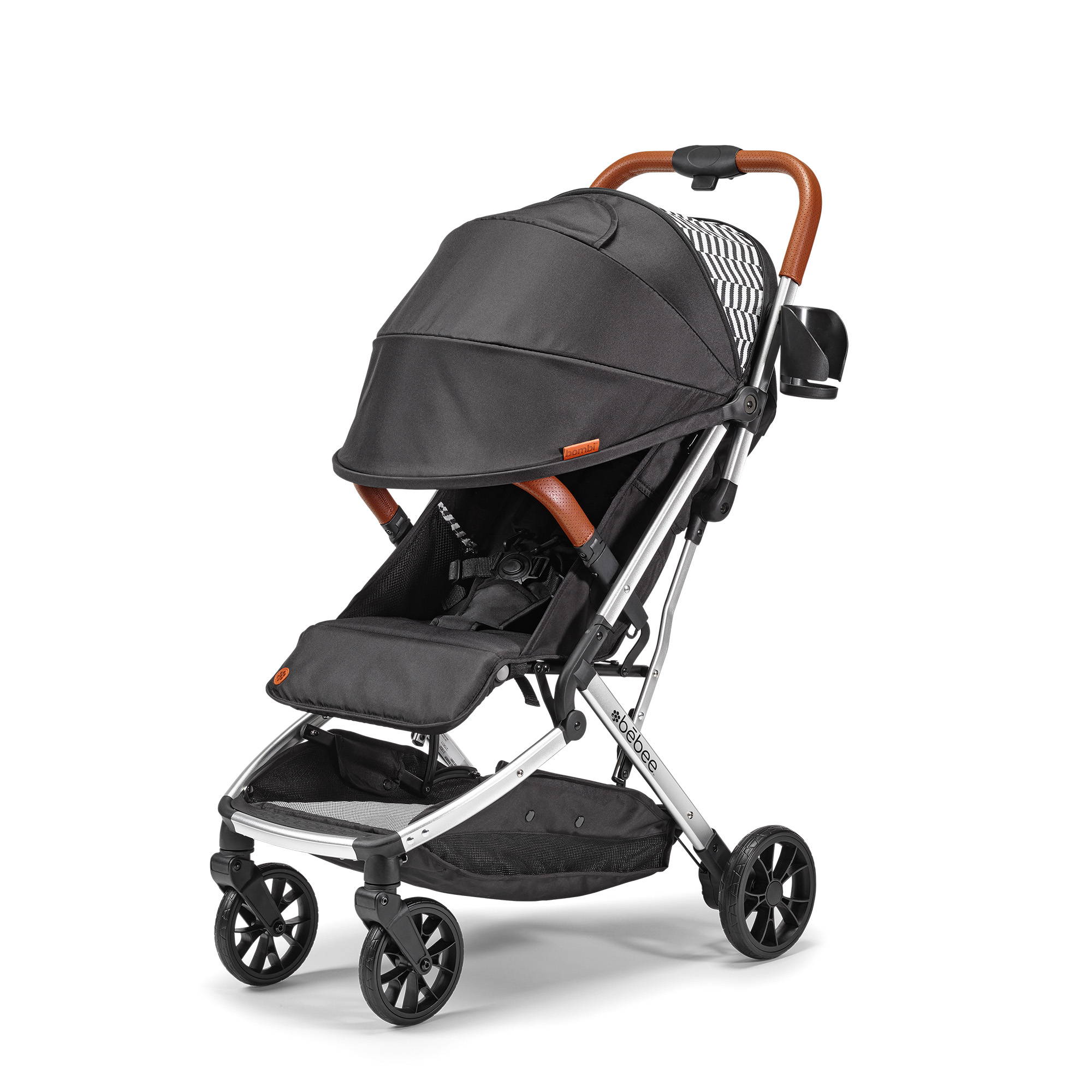 Not only does the Bēbee have all the features you'd expect to find in a full size stroller in a small, compact frame (making it perfect for travel), it has fabric made from at least 50% recycled plastic bottles, eliminates plastic in it's packaging & donates 1% of sales to 1% for the Planet (each stroller even plants a tree!). Not only does it boast all of those features, it does so at a price that won't break the bank (eco-conscious options should be accessible for everyone!)
Weight: 16lbs
Price: $199
Suitable for ages: 6m – 50lbs (it is car seat compatible for use from birth!)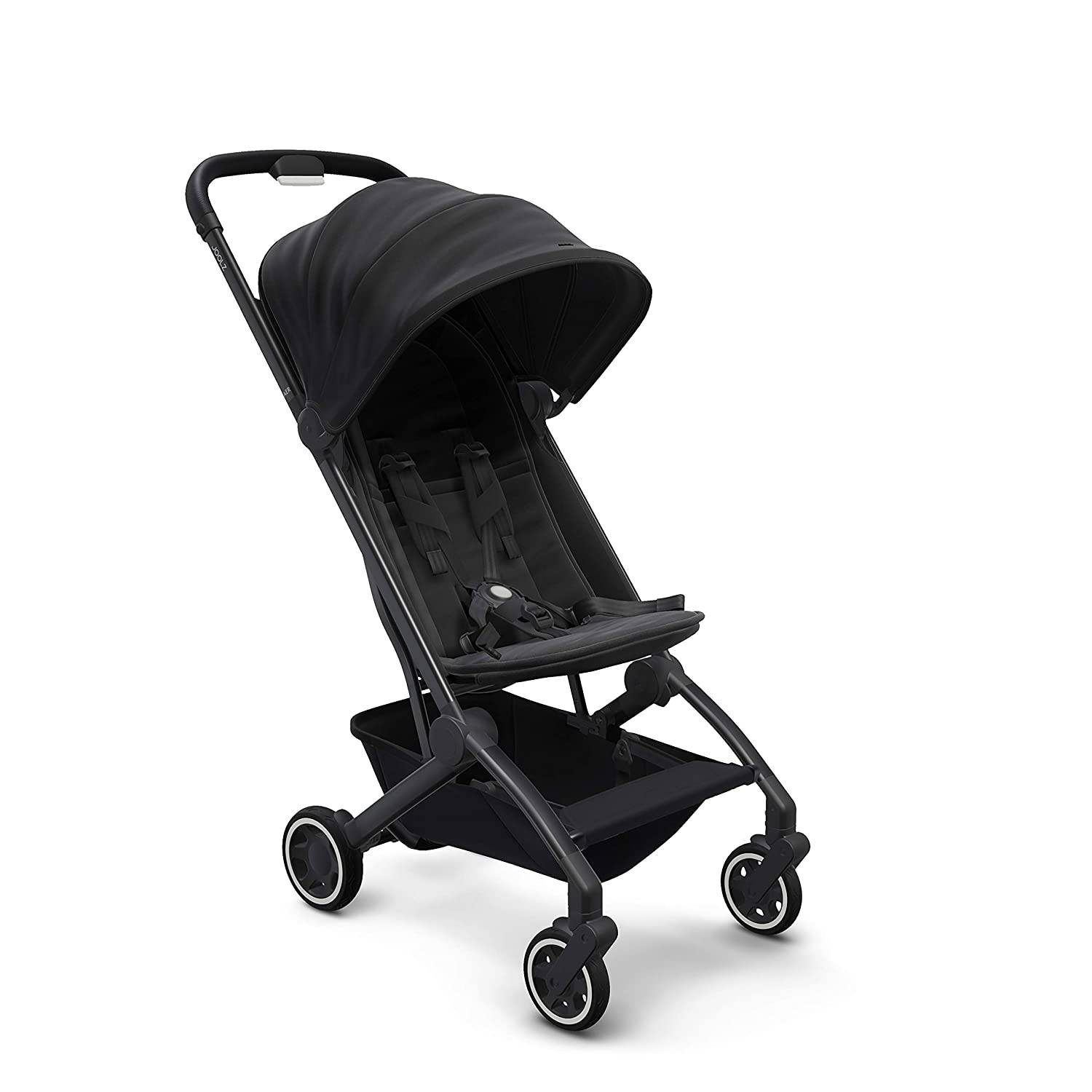 If you've got $400+ to spend on an eco-friendly lightweight stroller, this is a great option! It has all the lux features you want (padded seat, tons of storage & ample recline) plus sustainable materials - they also use fabric made from recycled plastic bottles & plant 1 tree for every stroller sold.
Weight: 13.4lbs
Price: $449
Suitable for ages: 6m – 50lbs (newborn bassinet option available)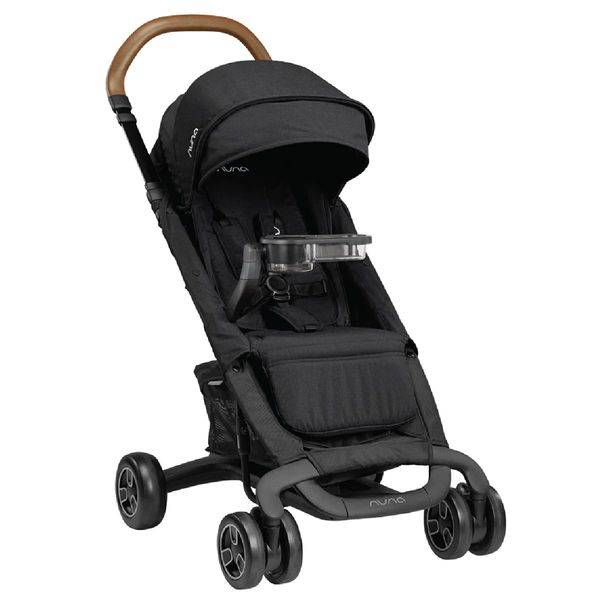 Last on our list is the Nuna Pepp – a compact travel stroller that is manufactured in a facility that implements environmental management systems. Honestly, we don't exactly know what that actually means – but according to them it means they work with recycling programs to try to reduce waste created from plastics and packaging in their manufacturing processes. It's a start, but we kind of wish there weren't any plastics in their packaging tbh!
Weight: 21.5lbs
Price: $349+
Suitable for ages: 6m – 50lbs
---
Make Traveling with Your Little One a Breeze
It's truly amazing how many different travel stroller options there are on the market right now. Whether you're looking for something ultra-compact, something with all the bells and whistles or something uber eco-conscious (we think our Bēbee Lightweight Stroller checks all the boxes!), there is something for every parent, baby & budget! Remember: the best travel stroller is the one that's best for you and your baby and everyone is different! What works for one parent, may not be what's ideal for you, so be flexible and try out as many as you need until you find *the one*.
We want to hear from you! What are your must-have stroller features when traveling with your little one? Let us know in the comments!
---